Now this is hot. I have been into racing motorbikes for quite some time and this is the first I have run across this. I have definitely seen the Rotax engined/TZ250 chassis conversions from the shop in Colorado that race in US series but I guess I am just not as familiar with the European SoS series as I thought I would be. Enjoy.
Excerpt from the Rumi website:
To modìfy thè air-cooled NX650 sohc four-valve engine, measur-ing 644cc in stock form with its 110 x 82 mm dimensions, Rumi en-listed thè services of Carlo Facetti. He's one of Italy's top development engineers and a noted name in FI racing car circles after his work designing FI race engines for Alfa Romeo and, just recently, Lamborghini.
Facetti already works on thè Rumi Honda Superbike motors alongside another freelance engineer from thè racing car world Ernesto Degan - formerly a designer for Alfa's Autodelta racing subsidiary who's used to adapting produetion engines for racing.
Facetti completely revamped thè top end of thè NX650 motor, retaining thè crank-cases, wet clutch and five-speed gearbox from thè stock Dommie engine, but convert-ing thè air-cooled engine to water-cooling and replacing thè radial-valye sohe top end with Degan's dohc design with paired valves. The originai chain drive to thè cylinder head is retained, but instead of turnìng thè originai Honda camshaft, it now drives a half-tìme pin-ion, outboard of which is thè waterpump and inboard a gear wheel meshing directly with thè twin overhead Rumi camshafts. Twin 43mm inlet valves and 35mm exhausts are fitted, with a fiat included l-just 26.5 degrees. At present, though . gìne was designed to run on fuel ir and has already been dyno tested guise (using twin Weber injectors ar. ' software on a TDD engine managen.-. tem similar to that used by Bimota : own BMW-powered BB1 Superino: prototype racer is running on twir. Keihin flatslides, in which form it deli" bhp at 9,000 rpm on thè Rumi dyno already have 77bhp with EFI, accoro: Norris Farrow.
All thè hardware, including a batte-pump and air duets for a pressurisec needed for EFI are already in piace. the switchover from carbs and th-: Honda CDI presently employed quitt
As well as water-cooling thè engine has also bumped it out to 697cc with ir of a 104mm three-ring Mondìal forge: delivering 10.3:1 compression, and th-gives thè sort of jump out of slow corot thè Mallory liairpin or chicane that thas-riding 550cc 'Ducatinas' can only dreac
The engine is unbelieyably punchy when you crack thè throttle wide open, especially at high rpm. Out of a fourth gear corner like thè Mallory Esses you can feel thè front wheel rise lazily in thè air as you get hard on thè gas, confirraed by thè way thè bars jiggle gently in your hands as you monowheel to-wards thè Hairpin cranked hard over.
Exiting a slower turn like thè chicane or hairpin causes quite a bit more excitement if you try to do it in either of thè bottoni two gears. First is actually way too low for racing use, but great for improving your wheelie credit rating with spectators. But get thè Rumi motoring out of a slow turn and it'll get
a jump on a Ducati that takes a while to peg back, as I discovered for myself riding briefly with Simon in Dundrod qualìfying - untìl an-other minor glitch sent him coasting up thè slip road with a dead engine. Then, at thè other end of thè performance scale, thè Rumi is very fast in a straight line on outright top-end speed, certainly quicker than thè five-valve Yamaha XTZ engine of equivalent capacity, as thè Ulster GP speed trap showed. The Stephens Yamaha that Jim Moodie used to win thè TT was no match for thè Rumi on absolute performance.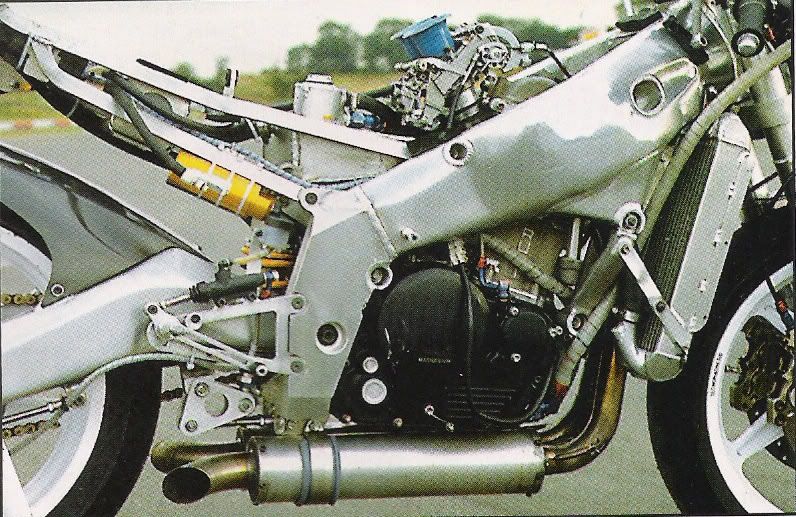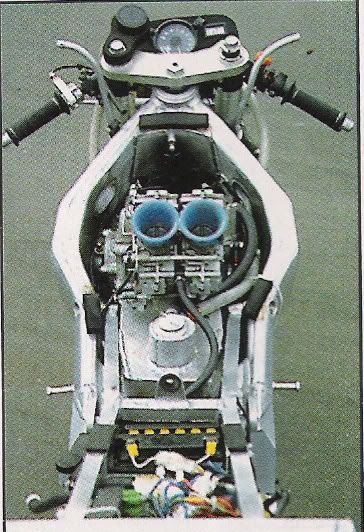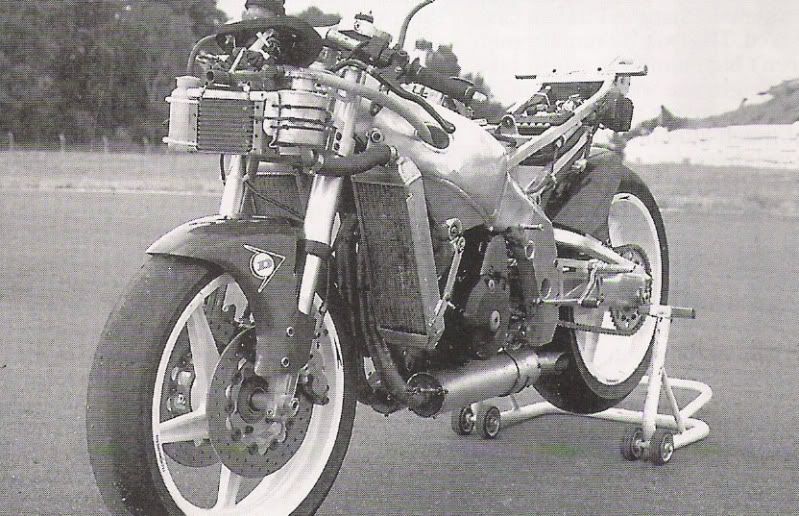 specs:
Engine: Water-cooled dohc four-valve
Single-cyli rider four-stroke with gear-
driven balance shaft, Dimensions: 104×82mm Capacity: 697cc
Output: 79bhp at 9000rpm (at gearbox) Compression ratio: 10.3:1 Carburation: 2 x 41 mm Keihin flatslides Ignition; Nippondenso electronic CDI Gearbox: 5-speed Clutch: Multiplate oilbath Chassis: Aluminium twinspar Suspension: Front: 40mm Ceriani/Forcella
Italia inverted telescopio forks Rear: Fabricated atuminium swingarm with
single Ohlins shock and risìng rate
linkage.
Head angle: 24 degrees Wheelbase: 1345mm Weight: 134kg. with oil/water, no fuel Weight distribution: 53/47% Brakes: Front: 2 x 26Qmm Brembo cast
iron discs with four-piston Brembo
calipers
Rear: 1 x 220mm Brembo steel disc with
two-piston Brembo caliper Wheels/tyres:
Front: 3.10/4,80-17 Dunlop KR106 radiai
on 3.50 in. Tecnomagnesio wheel
Rear: 155/60-17 Dunlop KR108 radiai on
5.50 in. Tecnomagnesio wheei. Top spoeti: Over 145mph (Dundrod -
Ulster GP)
Year of construction: 1993 Owner: Team Rumi, Bergamo, Italy.
All photographs and text
Team Rumi